FREE OFFER FOR A LIMITED TIME 
It's Ready-to-Brand, Monetize & Publish 
"The Ultimate Battle Plan to Massive Traffic Using Paid Advertising"
PLR Package

We Do All The Work.You Just Publish and Grow Your List.
Keep Reading for More Info: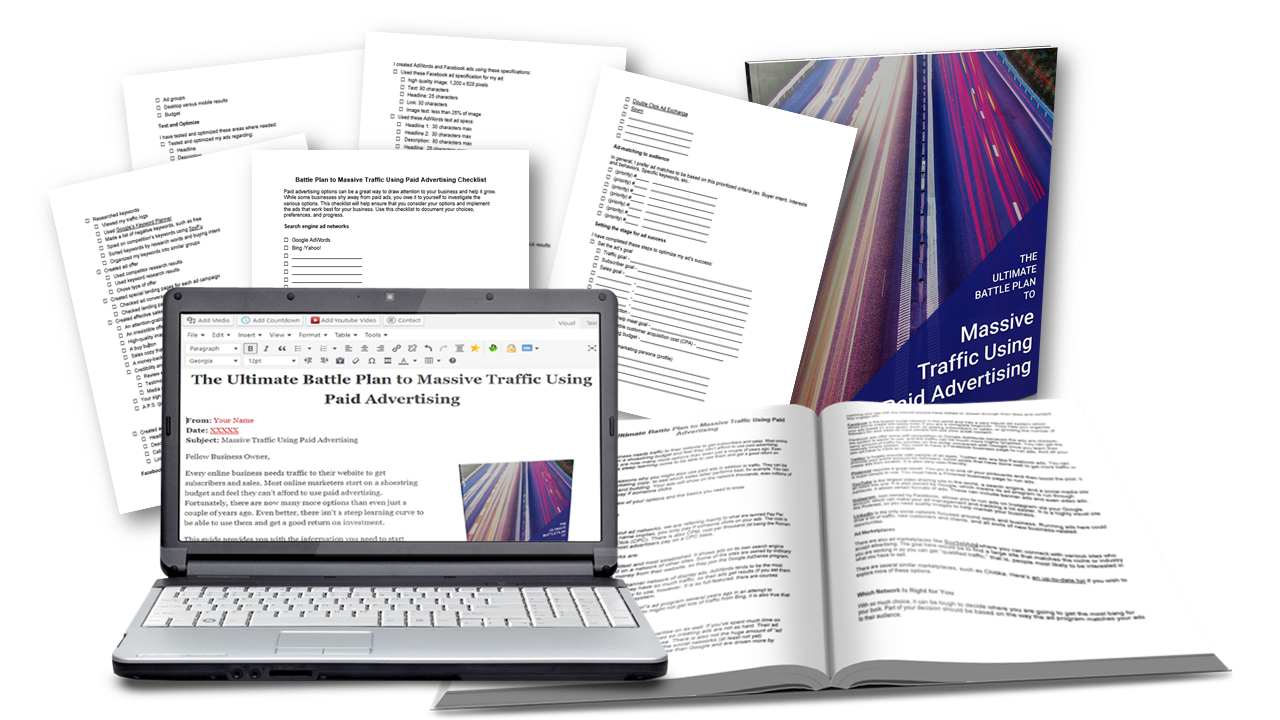 You create a website to share your knowledge and experience. You develop great content for it. Traffic trickles in but you expected a lot more. Where are all the people and why aren't they coming to the site? Don't be discouraged. You just entered a new stage of your business development. It's time to direct and drive traffic to your site. However, you don't want just any traffic. You want instant targeted traffic.
What is targeted traffic? Targeted traffic is the portion of traffic that is a part of your target market and arrives at your site due to marketing strategies and offers crafted specifically to grab their attention. These pre-qualified visitors can turn into leads, which can turn into buyers, then become repeat buyers, and ultimately turn into loyal customers.
Every online business needs traffic to their website to get subscribers and sales. Most online marketers start on a shoestring budget and feel they can't afford to use paid advertising. Fortunately, there are now many more options than even just a couple of years ago. Even better, there isn't a steep learning curve to be able to use them and get a good return on investment (ROI). Teach your readers the different options there are and review all the basics of paid advertising.
This PLR bundle will give your readers winning paid traffic strategies to help them reach their target market, get a positive ROI on their ads, reach their goals and more.
Your PLR Bundle Includes:
The Ultimate Battle Plan to MASSIVE TRAFFIC Using Paid Advertising PLR report (3,750 words/15 pages) will give your readers proven strategies for generating massive traffic to their website with maximum ROI. Strategies include:
Google, Facebook and other ad networks
Which Networks are right for you
How to create successful ads
Easy ways to understand your numbers
Secrets to spying on your competition and research
& more …
Give your readers the information they need to start generating massive traffic through paid advertising.

Here is a peek inside:



Detailed: "Paid Advertising" Checklist
This checklist will help ensure that you consider your options and implement the ads that work best for your business. Use this checklist (5 pages/764 words) to document your choices, preferences, and progress.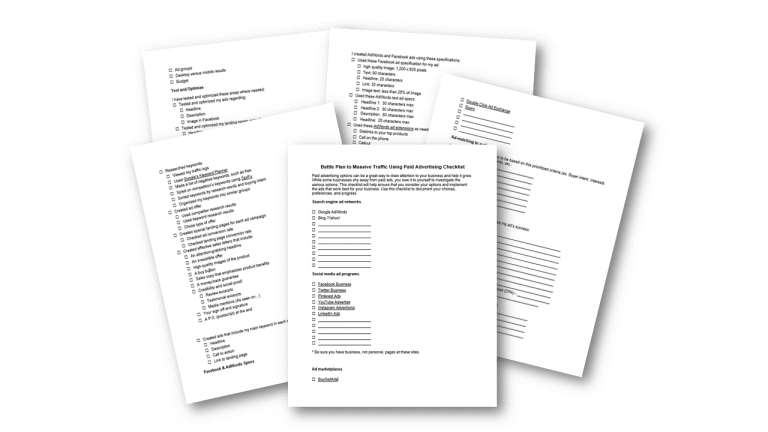 Promotional Cover Graphics
This professionally designed cover comes in PNG/JPG and PSD format. You get a flat document graphic and 3 styles of a 3d promotional graphic too.

Lead-Generating Opt-In Page
To help you grow your list with this report, we've included the opt-in copy…and even created the WordPress-ready code for you. We even host the images for you! Just fill in the blanks with your own information, autoresponder opt-in code and you're ready to roll.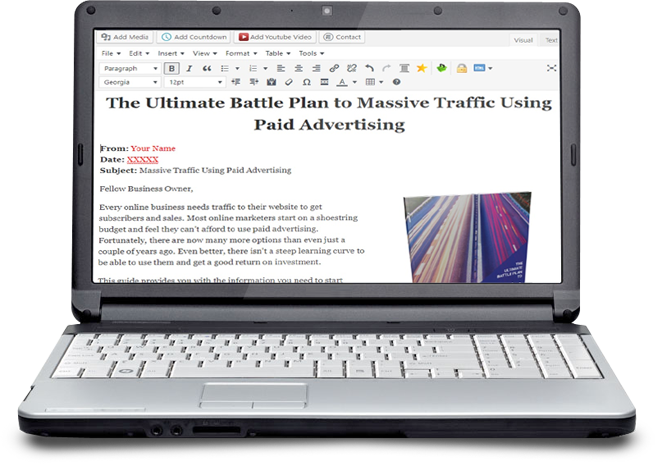 That's a total of  1 report,  1 checklist with 3750 words, promotional ecover graphics,and 1 lead generating opt-in page. It's ready-to-go or ready-to-edit and monetize content! It's a $27 PLR value, that you can get for FREE for a limited time only.

Use the content for opt-ins, publish it to your blog, social media and more. Or turn the content into an information product,  add links to affiliate products or promote your own products. The choice is yours!
To your content publishing success,

Alice Seba
Creating PLR Content for You Since 2006