Thank you! Your Info Product Creation info has been emailed to you.
Do Not Miss This Special Offer!
Get Even More Value out of Your Purchase &
Keep Delivering Great Content to Your Subscribers for an Entire Year…Set it and Forget It with This Instant Follow Up Campaign

Or keep reading for full details…

Thanks for picking up your Information Product Creation Package. We have emailed your access information to you, but before that we'd love to give you an opportunity for more valuable content to use with your purchase, so you can deliver great content effortlessly and focus on more important areas of your business. It's 52 done for you emails, so you can set it and forget it while adding massive value to your readers.
Make it yourself for $2,700 or just get it all here for a fraction of that cost. Here are the details…
Your Instant Follow Up Campaign

This package includes a total of 52 autoresponder emails with over 18,000 words, so you can continue delivering value all year long to your readers. Add your product promotions, affiliate recommendations and more.
Here are the email topics included: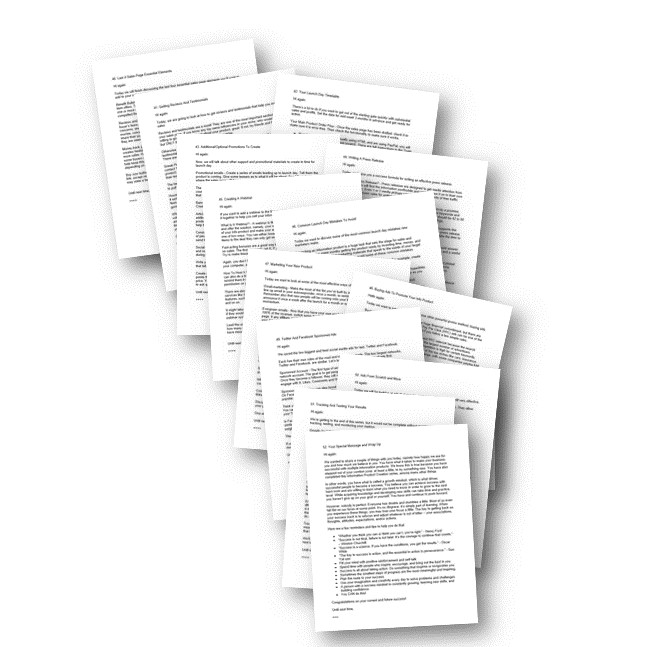 1. Welcome To Information Product Creation (283 words)
2. Popular Information Product Types (333 words)
3. Setting Up Your New Business Properly (330 words)
4. Brainstorming Your Niche Options (347 words)
5. Narrow Your Niche by Audience Demographics (315 words)
6. Narrow Your Niche by Sub-Niches (292 words)
7. A Closer Look at Sub-Niches (326 words)
8. The Benefits Of Niche Marketing (288 words)
9. Digging Deeper Into Your Sub-Niche (289 words)
10. Common Mistakes To Avoid (308 words)
11. Fact-Finding In Your Niche (295 words)
12. More Fact-Finding In Your Niche (352 words)
13. More Info Products Research Sources (376 words)
14. Clickbank-Top Information Product Marketplace (369 words)
15. Crafting A Great Clickbank Offer (254 words)
16. Other Special Offers That Sell Well (370 words)
17. Product Formats and Recurring Revenue Types (370 words)
18. Crafting Great Offers For Your Info Products (326 words)
19. Even More Product Research (349 words)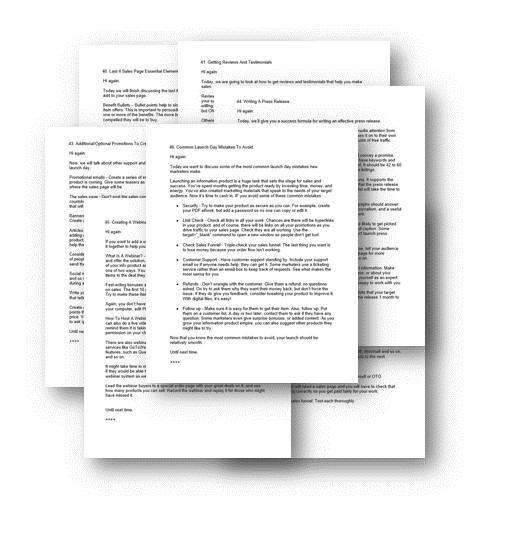 20. Getting The Right PLR For Your Needs (333 words)
21. Crafting Great PLR Packs To Sell (326 words)
22. Creating Great Content Bundles (303 words)
23. Using Keywords In Your Marketing (297 words)
24. Is Your Website Or Blog Product Friendly (319 words)
25. Using WordPress To Sell Your Info Products (373 words)
26. Planning Your New Website (365 words)
27. The Basics Of Email Marketing (362 words)
28. The Value Of Autoresponders (372 words)
29. Autoresponders Versus Broadcast Emails (365 words)
30. Building Your Email Marketing List (290 words)
31. Social Media Basics (370 words)
32. The Main Goals Of Social Media (349 words)
33. Facebook Essentials (285 words)
34. Finalizing The Plans For Your Product (334 words)
35. Hiring A Ghostwriter (314 words)
36. Getting The Most Out Of Your Ghostwriter Experience (359 words)
37. Pricing Your Product Correctly (313 words)
38. Pricing And Adding Value (344 words)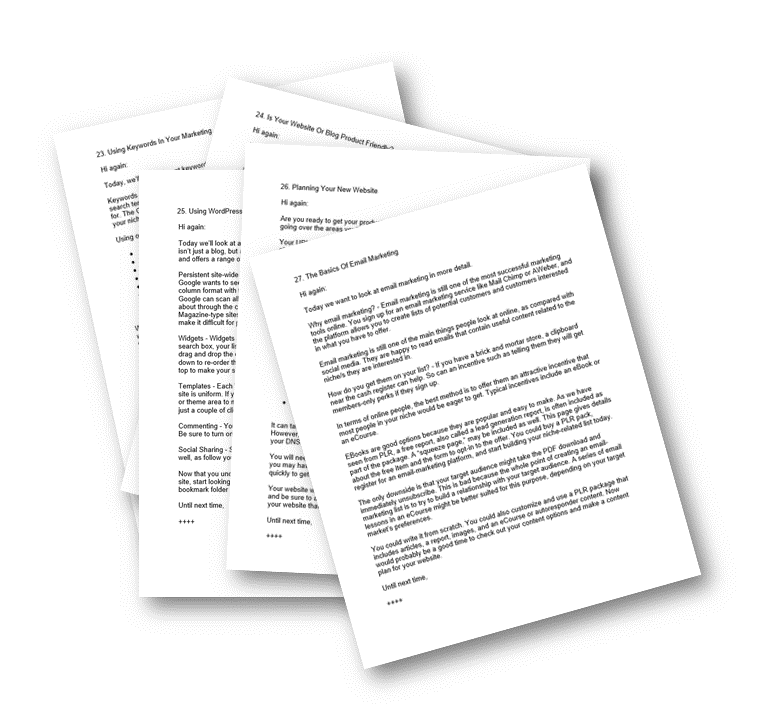 39. Sales Page Elements – First Five Essentials (326 words)
40. Last 4 Sales Page Essential Elements (273 words)
41. Getting Reviews And Testimonials (348 words)
42. Your Launch Day Timetable (306 words)
43. Additional-Optional Promotions To Create (352 words)
44. Writing A Press Release (397 words)
45. Creating A Webinar (371 words)
46. Common Launch Day Mistakes To Avoid (361 words)
47. Marketing Your New Product (349 words)
48. Buying Ads To Promote Your Info Product (325 words)
49. Twitter And Facebook Sponsored Ads (277 words)
50. Ads From Scratch and More (324 words)
51. Tracking And Testing Your Results (388 words)
52. Your Special Message and Wrap Up (391 words)
Use these 52 pieces of high-value content for your autoresponder…or put them together into a report, use for social media content or even for your blog. It's all up to you!
We've Done All the Hard Word…
You Just Have to Take This Content and Run with It
Imagine how much time and effort we've saved you in getting all these auto-responder messages done for you to use has an entire year's worth of valuable content.
Let's take a look at all that's involved with putting together this content together on your own…
| Instant Follow Up Campaign | Time to Create | Cost to Create |
| --- | --- | --- |
| 52-Week Professionally Written Emails for Autoresponder (54 pages/18,000 words) | 24 Hours | $2700 |
| | TOTAL TIME TO CREATE: 24 HOURS | TOTAL COST TO CREATE: $2700 |
As you can see, it would take plenty of time and investment to put all this together on your own…but you don't have to. We've done the work for you and all you need to is publish the content, add your affiliate links and more.
Grab it now for only $67 ($2,700 cost to create yourself) for your PLR license, so you can save endless hours of time and plenty of money to provide your readers with the information they're looking for.
Click the "Add to Cart" Button Below and Get
the 1 Year Instant Follow Up Campaign

Use the content for your newsletter, publish it to your blog, social media and more. Or turn it into an information product, add links to affiliate products or promote your own products. The choice is yours!
To your content publishing success,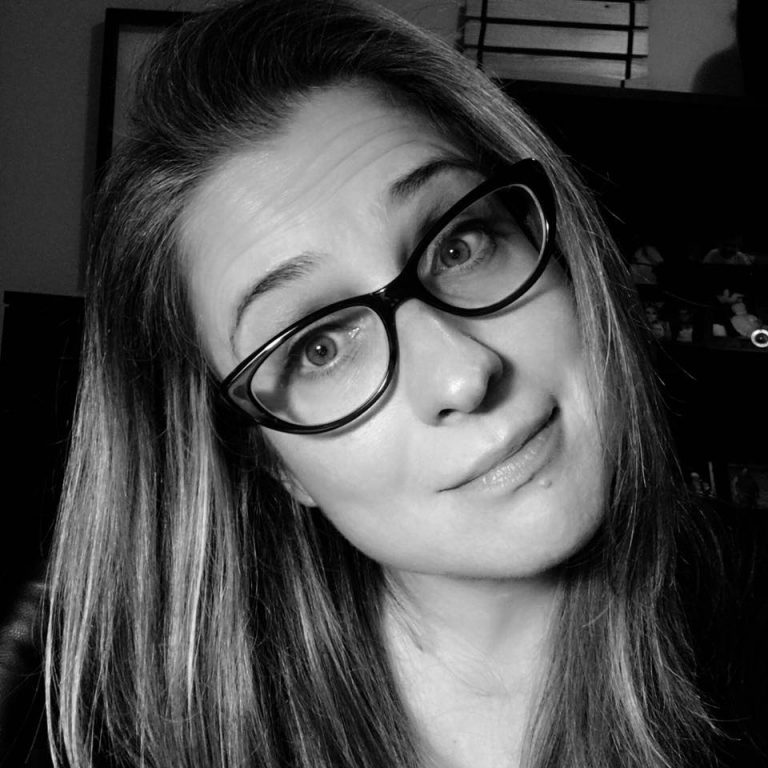 Alice Seba
Creating PLR Content for You Since 2006
No Thanks, Take Me to My Purchase