Thank you! Your Leveraging Facebook Lead Ads has been emailed to you.
Do Not Miss This Special Offer!
Get Even More Value out of Your Purchase &
Keep Delivering Great Content to Your Subscribers for an Entire Year…Set it and Forget It with This Instant Follow Up Campaign

Or keep reading for full details…

Thanks for picking up your Leveraging Facebook Lead Ads For Rapid List Growth. We have emailed your access information to you, but before that we'd love to give you an opportunity for more valuable content to use with your purchase, so you can deliver great content effortlessly and focus on more important areas of your business. It's 52 done-for-you emails, so you can set it and forget it while adding massive value to your readers.
Make it yourself for $3,050 or just get it all here for a fraction of that cost. Here are the details…
Your Instant Follow Up Campaign

This package includes a total of 52 autoresponder emails with over 16,000 words, so you can continue delivering value all year long to your readers. Add your product promotions, affiliate recommendations and more.  This is an entire year's worth and you can set it and forget it and still be delivering valuable content all year long!
Here are the email topics included: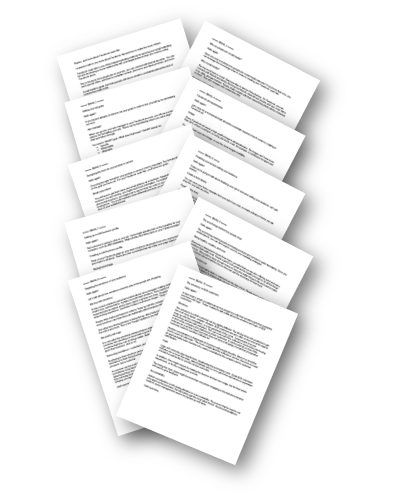 1. Why do people join social media?
2. Setting your ad goals
3. Facebook ad requirements
4. Designing the form for your product or service
5. Finalizing your ad and setting your audience
6. Setting up a solid business profile
7. The psychology behind how people shop
8. Targeting the emotions of your audience
9. The emotions of B2B customers
10. Facebook Business Pages and Messenger for Ads
11. Facebook Ads vs. Boosted Posts
12. Facebook Events for Advertising
13. Facebook Groups for Advertising
14. Factors that can affect the success of your ad
15. Strategies for generating more leads & conversions
16. Common Facebook marketing mistakes and solutions
17. Creating the perfect ad copy and image
18. Poorly constructed ads
19. Examples of effective Facebook campaigns
20. More tips on creating effective Facebook campaigns
21. Getting the most from Facebook Analytics
22. How to analyze the results of your marketing campaigns to make them even better
23. How to ask the right questions to fine-tune your marketing
24. Discovering funnels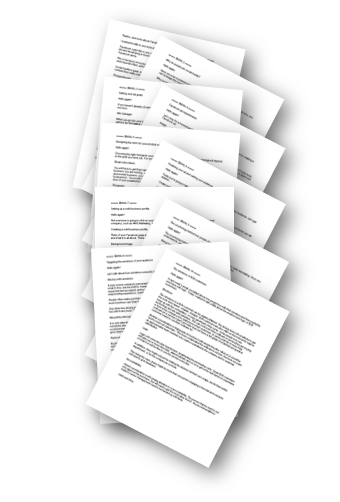 25. How to create a Facebook Lead Capture Funnel
26. How to define your business, brand, and target base
27. Develop and execute the ideal marketing campaign
28. Engage your audience and keep them hungry for more
29. How to maximize your profits with your Facebook ads
30. How to measure the effectiveness of your ads
31. How to split test your Facebook Ads
32. Use engaging and branded content to max your ROI
33. Making the most of boosted posts
34. Making the most of Facebook Insights
35. Making use of Facebook Places
36. Measuring the impact of your ads
37. Optimize your Facebook page for maximum results
38. Optimizing your Facebook Ad design
39. Leveraging the Facebook Pixel
40. Examples of ways to use retargeting ads
41. Practical ways to manage your retargeting campaigns
42. Reducing your Facebook Ad budget
43. The best strategies for marketing on Facebook
44. The most important analytics to watch
45. Tips for managing integration and automation
46. Introducing Facebook Dynamic Ads
47. Facebook Dynamic Ads Best Practices
48. Ways to customize your Event page
49. Ways to promote your Facebook Event
50. Ways to finalize your Facebook Event listing
51. Apps for integration and automation
52. A final word about Facebook Lead Ads
Use these 52 pieces of high-value content for your autoresponder…or put them together into a report, use for social media content or even for your blog. It's all up to you!
Facebook Ad Templates (3 pages/ 670 words)
6 high converting, done-for-you, Facebook ad templates. We've made it easy for you to fill in the blanks and run with these.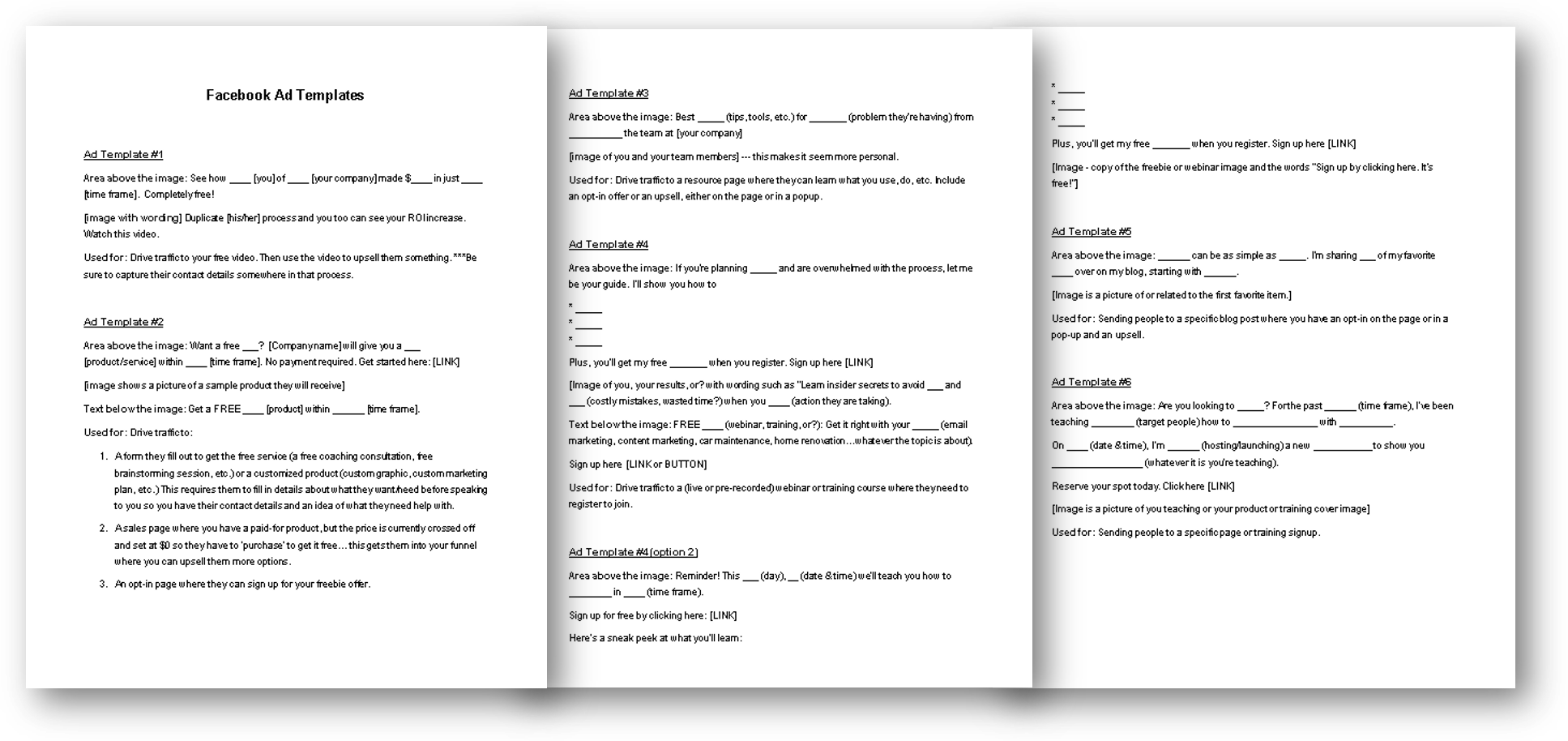 We've Done All the Hard Word…
You Just Have to Take This Content and Run with It
Imagine how much time and effort we've saved you in getting all these autoresponder messages done-for-you to use has an entire year's worth of valuable content.
Let's take a look at all that's involved with putting together this content together on your own…
| Autoresponders and Templates | Time to Create | Cost to Create |
| --- | --- | --- |
| 52-Week Professionally Written Emails for Autoresponder (53pages/16,565 words) | 24 Hours | $2,700 |
| Facebook Ad Templates (6 templates/ 3 pages/ 670 words) | 4 Hours | $350 |
| | TOTAL TIME TO CREATE: 28 Hours | TOTAL COST TO CREATE: $3,050 |
As you can see, it would take plenty of time and investment to put all this together on your own…but you don't have to. We've done the work for you and all you need to is publish the content, add your affiliate links and more.
Grab it now for only $67 ($3,050 cost to create yourself) for your PLR license, so you can save endless hours of time and plenty of money to provide your readers with the information they're looking for.
Click the "Add to Cart" Button Below and Get
the 1 Year Instant Follow Up Campaign + 6 Ad Templates

Use the content for your newsletter, publish it to your blog, social media and more. Or turn the content into an information product, add links to affiliate products or promote your own products. The choice is yours!
To your content publishing success,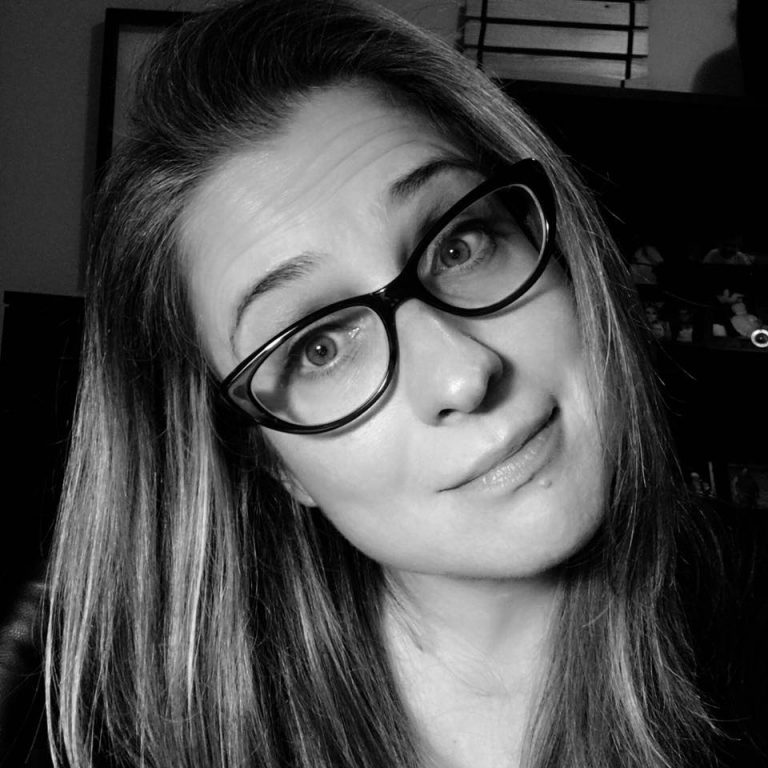 Alice Seba
Creating PLR Content for You Since 2006
No Thanks, Take Me to My Purchase