Private Label Licenses Now Available:
Get Your Brand New, Get Paid BEFORE You Create Your Info Products List Building Package

We Do All The Work, You Just Publish and Grow Your List. Keep Reading for More Info:
LIMITED TIME OFFER:

Get Bonus Content for Bigger Value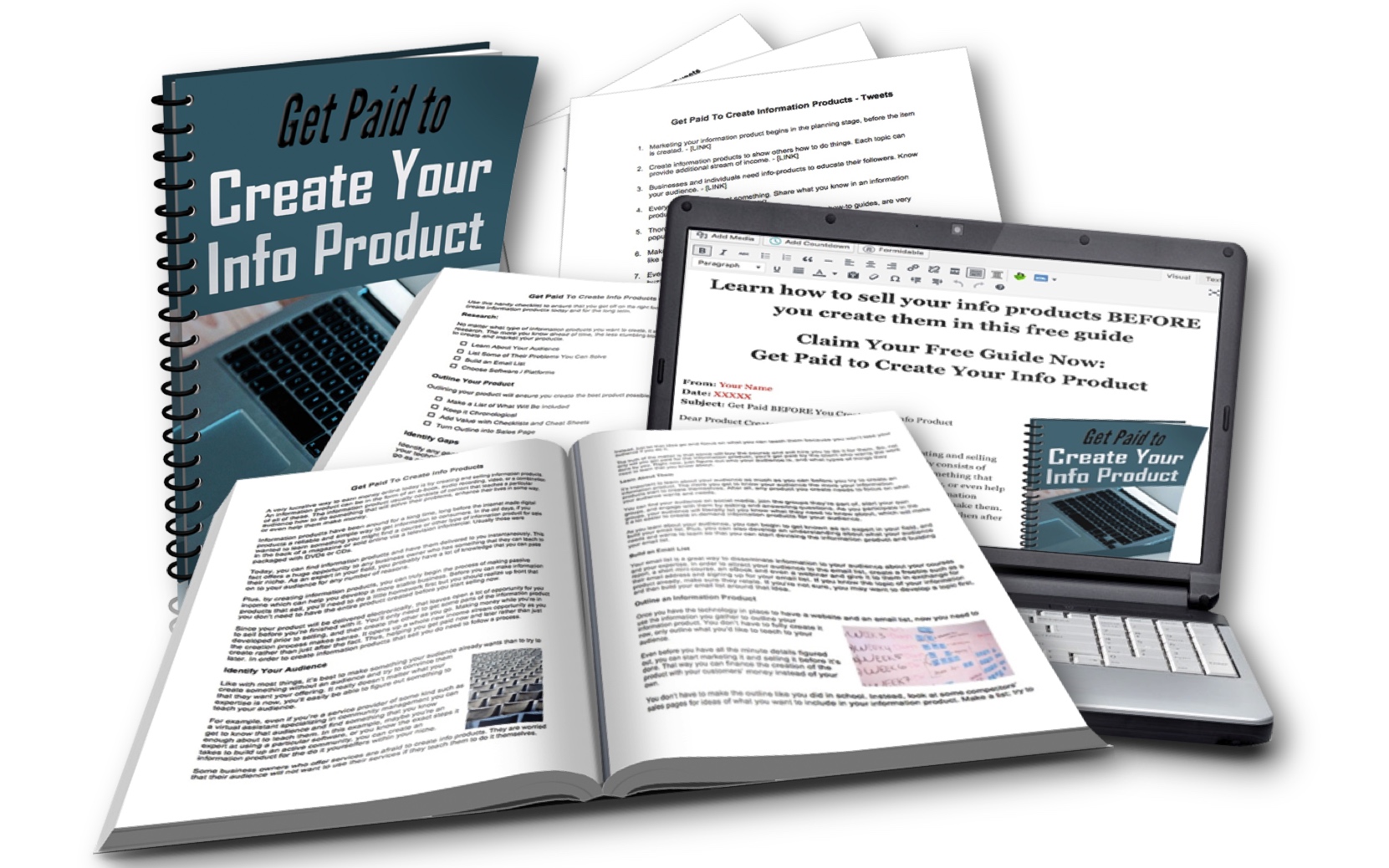 -1034
Days
-5
Hours
-46
Minutes
-1
Seconds
A very lucrative way to earn money online today is by creating and selling information products. An information product can be in the form of an e-book, audio recording, video, or a combination of all of these.
Most information products are created and then marketed after the fact. This carried a lot of risks.What if the audience didn't want or need that information? What if you didn't sell enough to break even, much less make a profit?
By selling the idea in advance you'll know if you have a good product or not, not only for the first group of buyers who paid before you created it, but for the buyers who buy the product later after you've repackaged it. This is a double-whammy income boosting tactic that will make a huge difference in your bottom line.
Before you can make information products that sell, you'll need to do a little homework first but you should realize up front that you don't need to have the product created before you start selling now.
This bundle will teach your readers how they can get started selling information products before they spend the time creating them.
Your PLR Bundle Includes:
Get Paid to Create Your Info Product PLR report (4,566 words / 6 images) will teach your readers how they can start earning passive income by selling information products. Topics include:

Identify your audience
Ways to organize an information product
Choose your delivery method
Start marketing your information product
Create it as you go
Repurpose your content into new products
Getting started
…and more. Give you readers the information they need to get started selling their information product before they create it.
Here is a peek inside:


Promotional Cover Graphics
This professionally designed cover comes in PNG/JPG and PSD format. You get a flat document graphic and 3 styles of a 3d promotional graphic too.

Bonus: Checklist
You also get a detailed checklist (3 pages / 454 words) to help your readers stay on track as they create their info product.

NEW! Lead-Generating Opt-In Page

To help you grow your list with this report, we've included the opt-in copy…and even created the WordPress-ready code for you. We even host the images for you! Just fill in the blanks with your own information, autoresponder opt-in code and you're ready to roll.
NEW!

 20 Tweets/Social Media Updates
You also get 20 tweets/tips on how your readers can sell their own information product before they create it.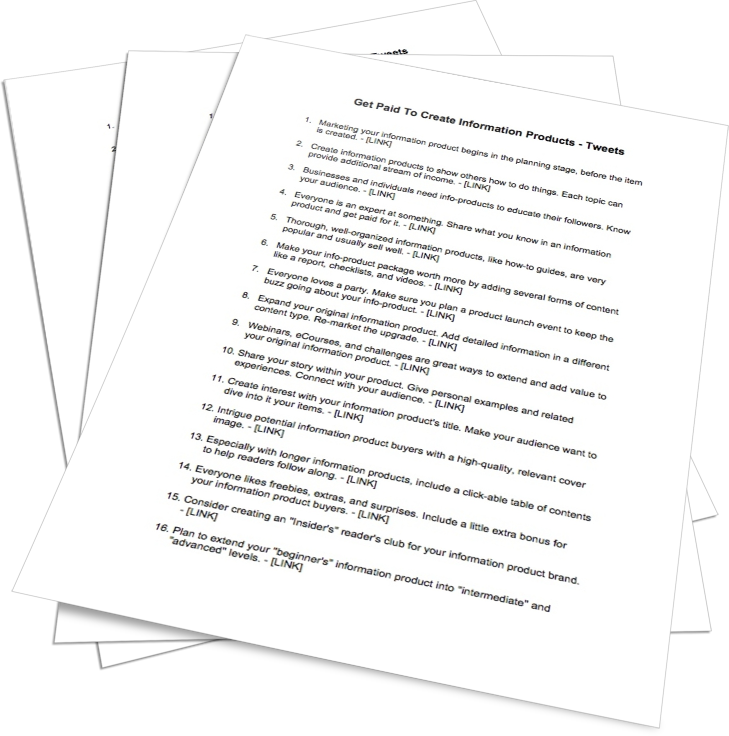 We've Done All The Hard Work…
You Just Have to Take This Content and Run with It
Imagine how much time and effort we've saved you in getting all this ready-to-publish content for you to use in your own business. Not only have we made the content, but we've made the lead-generating opt-in pages and graphics you need to promote it.
Let's take a look at all that's involved with putting together this content on your own… 
| Get Paid to Create Your Info Product Bundle | Cost to Make |
| --- | --- |
| 4,566 word report (.doc) | $450 |
| Promotional Ecover Set (.JPG and .PSD with flat cover and 4 x 3D version) | $75 |
| Lead-Generating WordPress-Ready Opt-in Page Copy (.doc and copy-and-paste WordPress code...we even host the images) | $120 |
| Detailed Checklist (454 words) (.doc) | $80 |
| 20 Pre-Written Tweets (.doc) | $50 |
| | TOTAL REAL VALUE: $775 |
As you can see, it would take plenty of time and investment to put this content together on your own…but you don't have to. We've done the work for you and all you need to is publish the content, add your autoresponder opt-in code and you'll be growing that list in no time.
At only $27 ($775 make-it-yourself value) for your PLR license, so you can save endless hours of time and plenty of money to provide your readers with the information they're looking for.

-1034
Days
-5
Hours
-46
Minutes
-1
Seconds
Use the content for opt-ins, publish it to your blog, social media and more. Or turn the content into an information product, add links to affiliate products or promote your own products. The choice is yours!
To your content publishing success,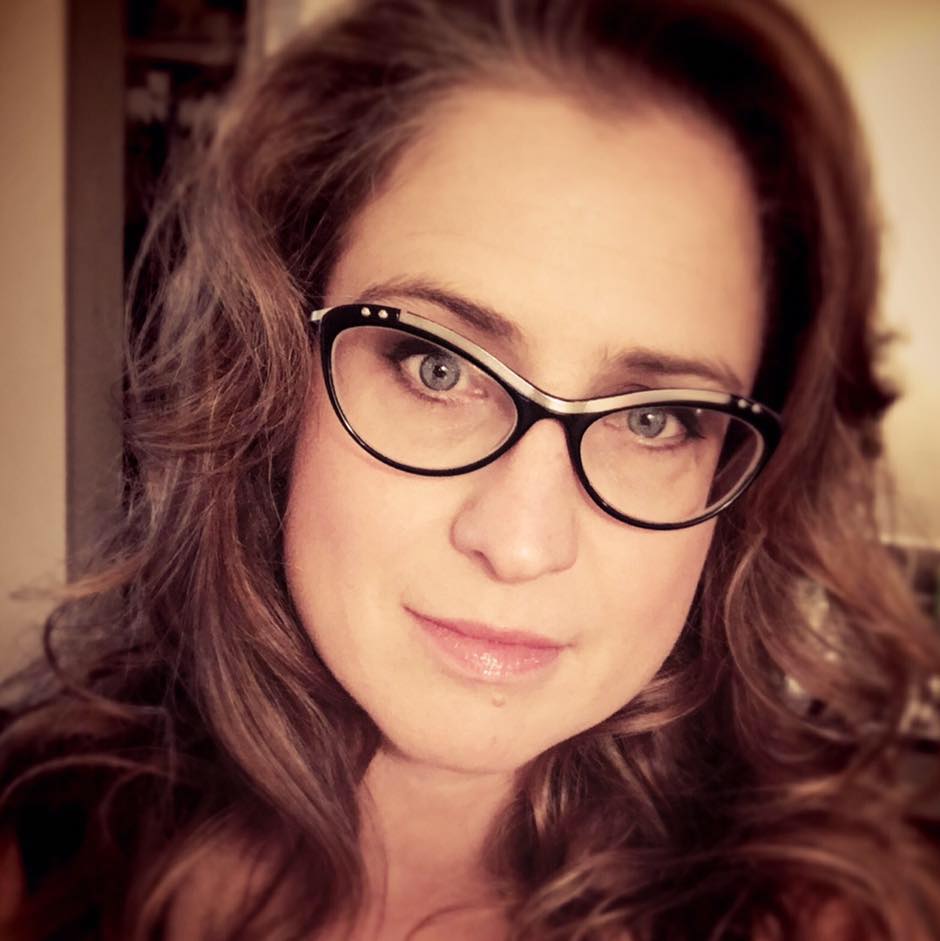 Alice Seba
Creating PLR Content for You Since 2006