[am4show have='p752;p753;p754;p755′ ]
Intensive Content Results Training and
30-Day Challenge Members Area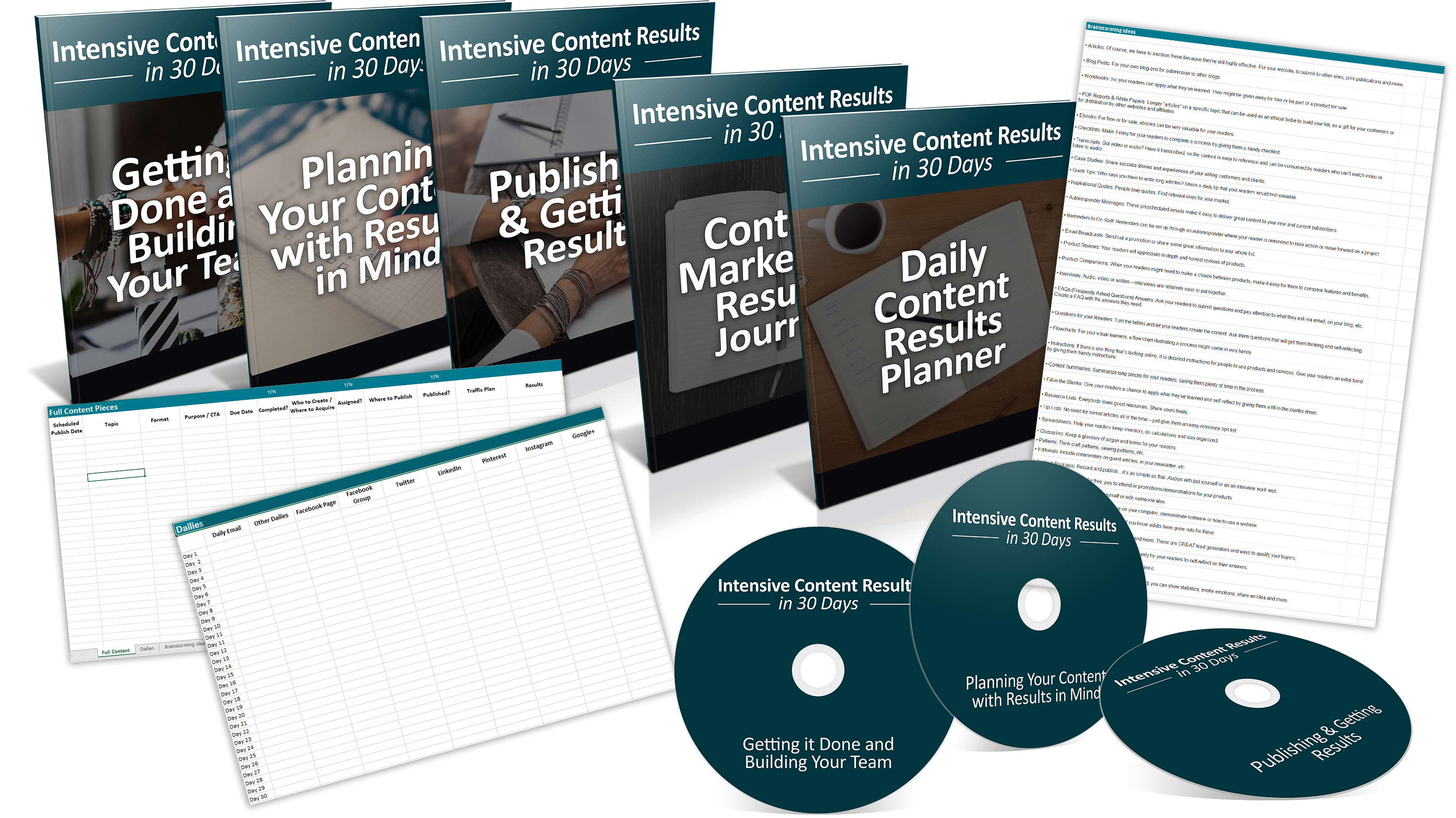 Thank you for joining us for the Intensive Content Results and Challenge. I am super excited about getting started. You'll find all the training materials below. Please note that transcripts take up to a week to be completed and notes follow soon after.
But first….
Challenge Officially Runs January 29 – February 27…but You Can Join Anytime
Also, if you're a service provider that provides services like writing, graphics, video creation, virtual assistance or anything that would be helpful for a content marketing plan, please post your service to this thread. 
The 30-day challenge will take place via the Facebook Group and it's also a place where you can ask questions about the training, get feedback and more. If you chose PLR rights for the training, you will also be able to ask questions about creating your own product for sale.
IMPORTANT: If your Facebook name does not match the name you registered for the challenge, please submit a support ticket to let us know and we'll accept you into the group.
Intensive Training Recordings and Handouts
Session 1 – Planning Your Content with Results In Mind

Content isn't just for traffic and to build relationships with the hope your visitors might buy later. It's for RESULTS and FAST. It's a vehicle for a steady stream of new subscribers and sales when you do it right.
This session covers:
Finding the purpose for your content, so it helps BOTH you and your audience
The #1 secret to getting results from your content that most people get backwards
Why planning works and why winging it is probably costing you money
How to use my own personal Strategic Content Marketing Plan Workbook…this is going to change everything.
How to get one month's worth of content planned to grow your business and be ready for our 30-day challenge. It's easier than you think once I show you how.
Session 2 – Getting it Done & Building Your Team (Even for Free) 

Now that you've created your plan, it's time to get that content ready and rolling according to plan. And it's going to be easier and more economical than you think.
This session covers:
Smart ways to build your content marketing team…and many of these methods require little to no out-of-pocket expenses
How to work with your writing team to ensure they create the content you want and grows your business
How to effectively create your own AWESOME content quickly. There will be NO slaving at the keyboard all day long.
How to use my personal Daily Content Results Planner, so you know you're staying on track
This lesson really is all about consistency and being able to continue to produce content long after the challenge is over, so you can continue to reap and multiply the benefits.
Session 3 – Publishing and Getting Results

Now we're just about ready to get rolling with that 30-day challenge, but first you need a plan to get that content published and ensure it's bringing you the results you want.
This session covers:
Where to publish your content and how to maximize each piece you put out there
Creating calls to action that are most likely to get your audience to get on board
Tracking your results and improving your strategy as you go, so you get even more subscribers and customers
How to use my personal Weekly Content Marketer's Results Journal to ensure long-term strategy improvement and results
Once the training is done and you've made your plan, we proceed to the 30-day challenge where you'll work your plan, discuss results, get accountability to stay on track, and receive feedback to adjust and improve.
[/am4show]