Limited spaces are available. Grab yours now…
Intensive Content Results Training and 30-Day Challenge with Alice Seba
Ready For a Simple System to Rev Content Marketing for More Subscribers

and

Sales in

Any

Niche, Even if You Hate Selling? Now is the Perfect Time..
-680
Days
00
Hours
-58
Minutes
-42
Seconds

Plus, You Can Grab Private Label Rights to All The Training, So You Can Launch Your Own Top-Notch Coaching Program Using My Tried and True Methods and Tools
Keep Reading for More Info: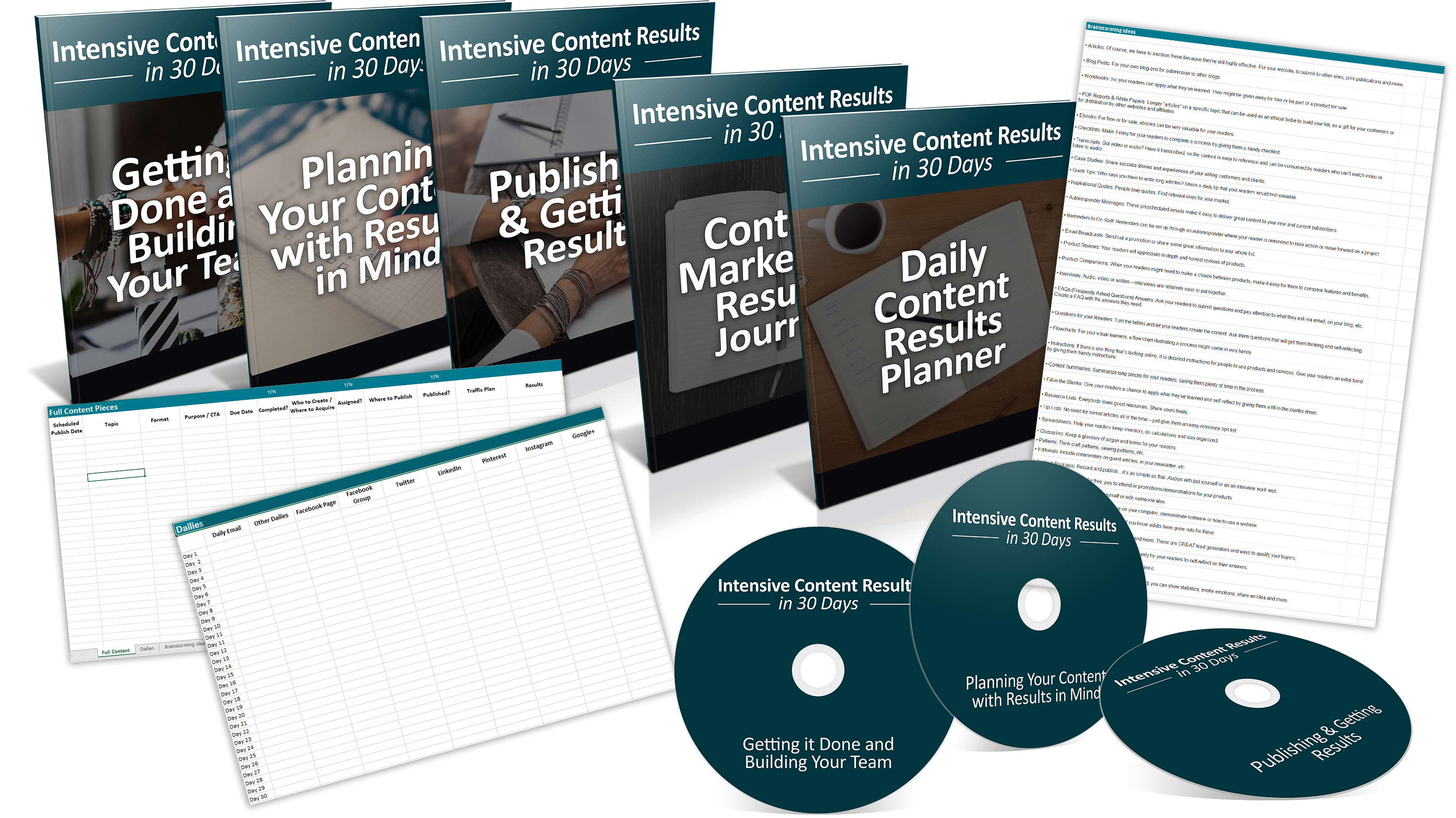 Hey there Fellow Online Content Publisher,
Here's something exciting coming up pretty quickly that you simply don't want to miss. If you're interested in:
Using up all the AWESOME PLR you've been collecting on your hard drive
Want to be able to have a team regularly publishing content for you (even for FREE)
Easily getting more subscribers and sales and building your loyal fan base at the same
Get more word of mouth for your business…without you having to ask for it
Establish your expertise as an authority and a go-to resource in your niche
Have your audience EXCITED to buy yourself instead of you feeling like you forced them
Then I've got you! Over the past 16 years I've learned the secrets of making content do exactly this for you. And it doesn't mean working endlessly tap tapping away at the keyboard. NO WAY. I value my freedom and this is why I started my business. I'm going to show you how I did that and give you the training and tools to make it happen.
As I mentioned, I've been at this content thing for a long time…both for your myself, and for my clients and customers. If you've never met me before, allow me to introduce myself and I look forward to getting to know you in the training as well because we're going to be working very closely together.
I'm Alice Seba…and Content Marketing is My Life
Okay, okay…it's not my entire life. I have a family to keep me busy and do other things like yoga, karate and travel in my spare time, but when it comes to my business, content is it and I've been doing this since 2002. And it's certainly my focus on content that has allowed me the freedom and ability to enjoy life to the fullest.
I started out as a ghostwriter and then moved into licensing my content with private label rights, which I do to this very day. I've sold millions of dollars in content and have over 20,000 clients and customers who have gladly purchased the words my company puts on the page. Add to that, content is my main marketing strategy for growing my own business.
Even though I publish a tremendous amount of content already, I'm looking to step things in 2018 and I'd love to have you join me. We're going to get together for some pretty intensive and eye-opening training sessions that are going to give you new strategies and focus for amping up your content marketing plan. Plus, we'll be spending an additional 30 days together where I'm going to be making sure you get it done and start generating new subscribers and sales from your efforts.
And hey, since I'm in the business of offer private label rights to this content, if you join me for the training and challenge, you'll also be able to take this content to run your own training.
Here's what you can expect from this training…
3 Intensive Training Sessions to Help You Strategically Plan Your Content with Results in Mind and All You Need to Get That Plan Done 
If you've ever joined a 30-day challenge, sometimes you're thrown in willy-nilly and you're told things like: "write 2000 words a day" or "blog every day"…but that's not enough. I'm going walk you through a strategy that takes you from making your plan, executing it and getting RESULTS.
Here's what you can expect in those 3 training sessions (including recordings, transcripts and  notes)…
Session 1 – Planning Your Content with Results In Mind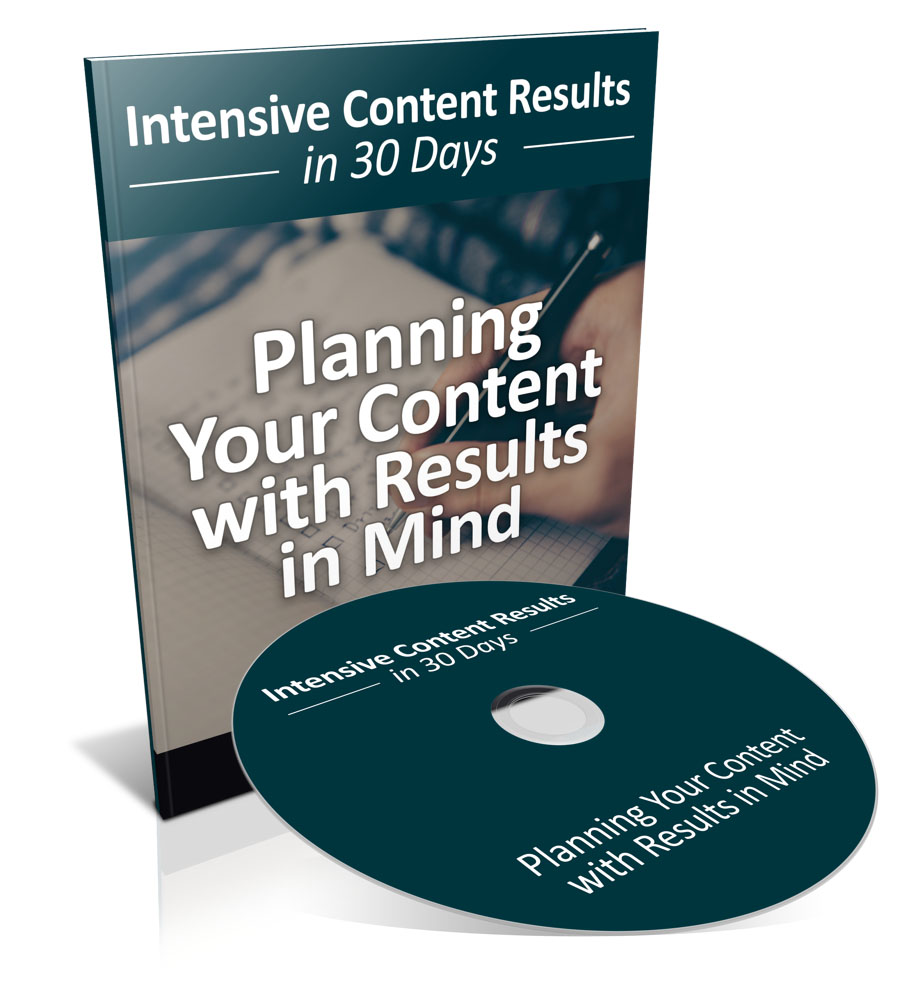 Content isn't just for traffic and to build relationships with the hope your visitors might buy later. It's for RESULTS and FAST. It's a vehicle for a steady stream of new subscribers and sales when you do it right.
This session covers:
Finding the purpose for your content, so it helps BOTH you and your audience
The #1 secret to getting results from your content that most people get backwards
Why planning works and why winging it is probably costing you money
How to use my own personal Strategic Content Marketing Plan Workbook…this is going to change everything.
How to get one month's worth of content planned to grow your business and be ready for our 30-day challenge. It's easier than you think once I show you how.
…and a bunch more. There will be plenty of time for questions and feedback. You'll also be able to ask questions in our private challenge members-only group. I've got your back!
Session 2 – Getting it Done & Building Your Team (Even for Free)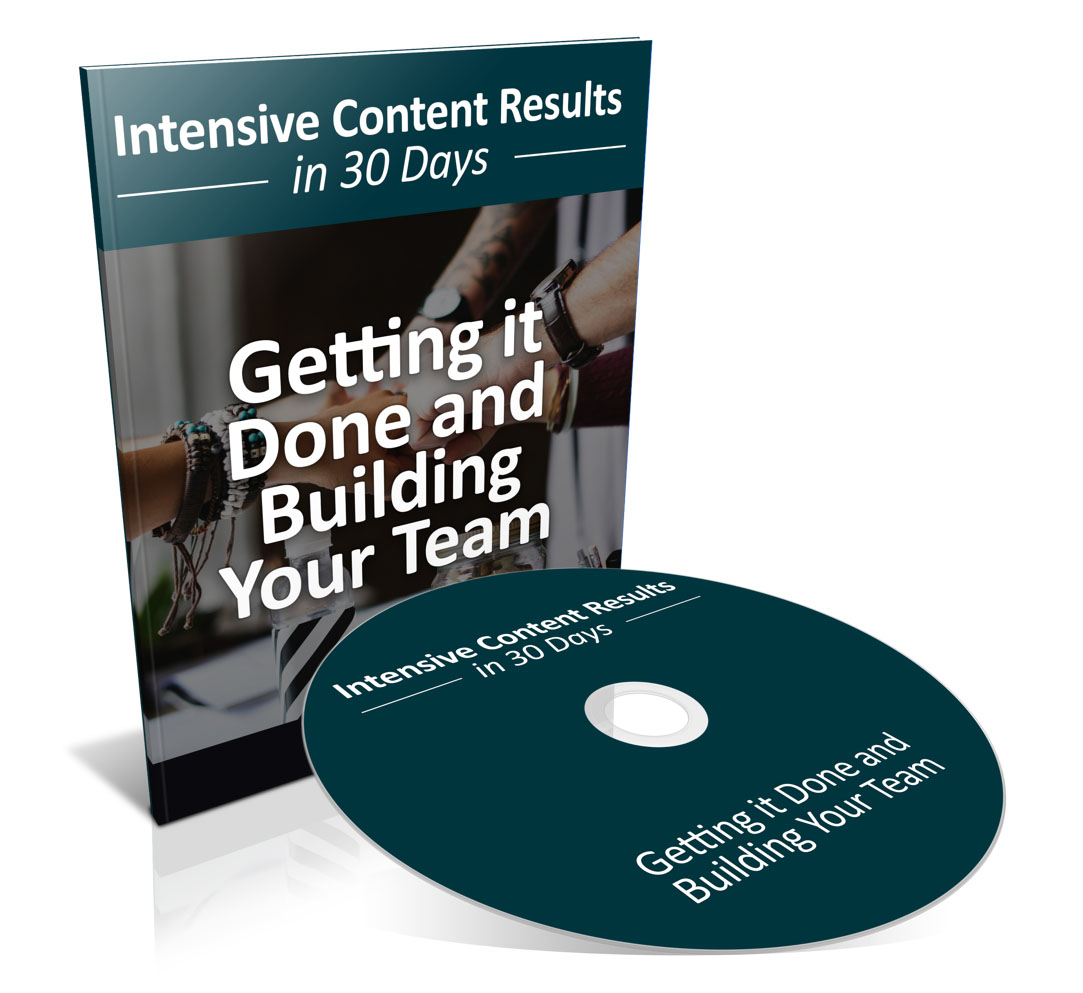 Now that you've created your plan, it's time to get that content ready and rolling according to plan. And it's going to be easier and more economical than you think.
This session covers:
Smart ways to build your content marketing team…and many of these methods require little to no out-of-pocket expenses
How to work with your writing team to ensure they create the content you want and grows your business
How to effectively create your own AWESOME content quickly. There will be NO slaving at the keyboard all day long.
How to use my personal Daily Content Results Planner, so you know you're staying on track
This lesson really is all about consistency and being able to continue to produce content long after the challenge is over, so you can continue to reap and multiply the benefits.
Session 3 – Publishing and Getting Results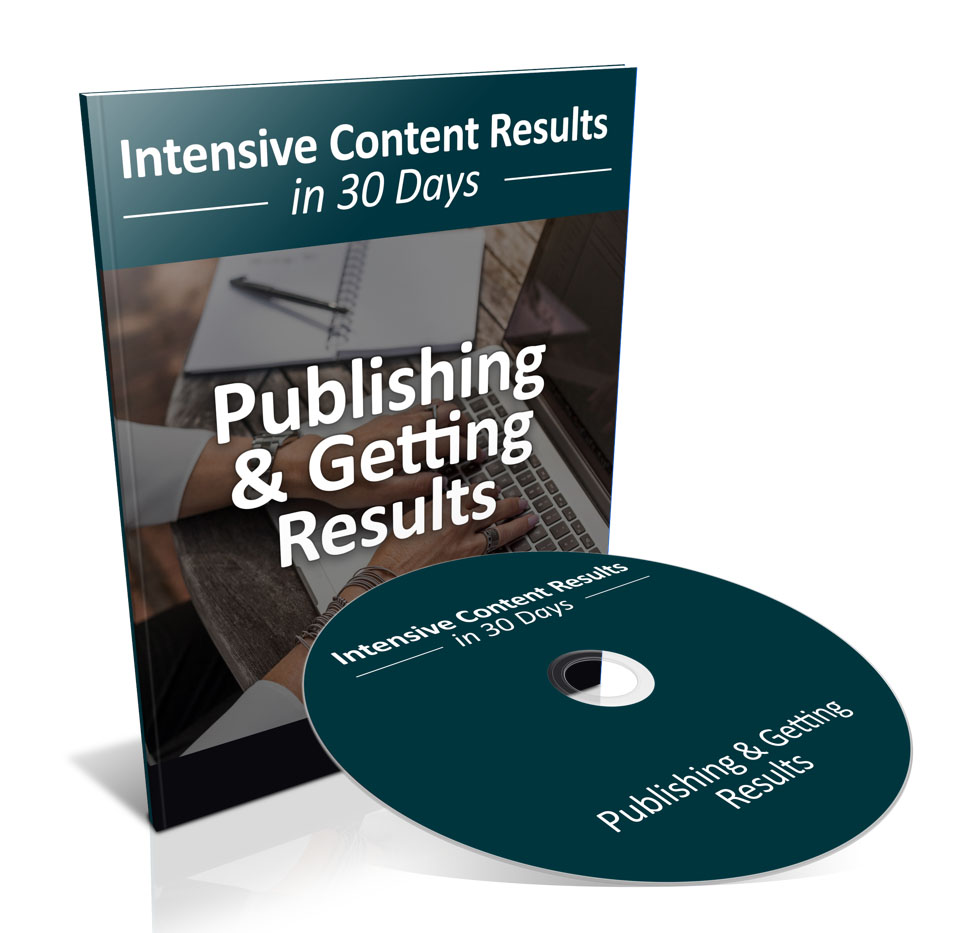 Now we're just about ready to get rolling with that 30-day challenge, but first you need a plan to get that content published and ensure it's bringing you the results you want.
This session covers:
Where to publish your content and how to maximize each piece you put out there
Creating calls to action that are most likely to get your audience to get on board
Tracking your results and improving your strategy as you go, so you get even more subscribers and customers
How to use my personal Weekly Content Marketer's Results Journal to ensure long-term strategy improvement and results
And yep, full recordings, transcripts and notes will be provided of each session, so if you can't attend online, you'll be able to catch up.
Once the training is done and you've made your plan, we proceed to the 30-day challenge where you'll work your plan, discuss results, get accountability to stay on track, and receive feedback to adjust and improve.
But first, let me tell you a bit more about the…
Extra Practical Tools to Get You to Results Faster:
Join us for the intensive training and challenge and you'll have access to a few of my own must-have tools that I personally created to stay on top of my content marketing plan and ensure that I continue to get good results from my efforts. You'll be able to use these tools for your own content marketing plan and if you choose private label rights to the training, you'll be able to share the tools with your customers too.
Here's a quick preview of these tools…
Monthly Strategic Content Marketing Plan Workbook
Here's the nerve center for all your content marketing. It's a handy spreadsheet that makes it easy for you to plan a month's worth of content in advance. It helps you plan content that brings in new subscribers and sales…plus, it helps ensure that you remain consistent and connect with your audience every single day, all without working yourself to death.
I'll walk you through each step of getting that plan ready, so you can quickly start executing that plan with the help of my…
Daily Content Results Planner
Once your monthly plan is ready, it's time to get to the nitty gritty and get the work done. The daily planner keeps you on top of all the tasks, delegation and everything you need to ensure your plan is right on track.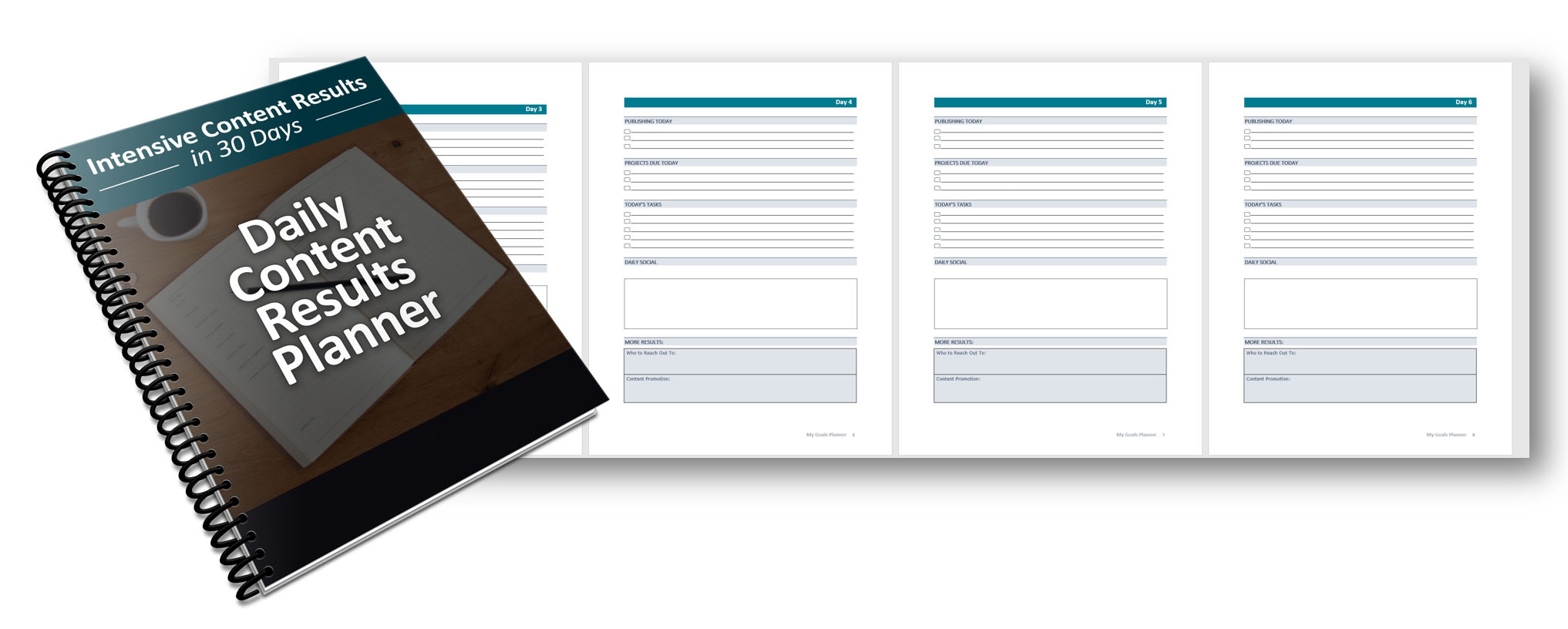 It's a simple document that helps you stay on track, focused on the right things and even pushing yourself a bit further for eve better results.
Weekly Content Marketer's Results Journal
It's easy to get bogged down in the daily grind of our businesses, getting the content out there and seeing the results. But this journal make sure you take a few moments each week to figure out what worked in your campaign, what didn't work and gives you the chance to generate new ideas.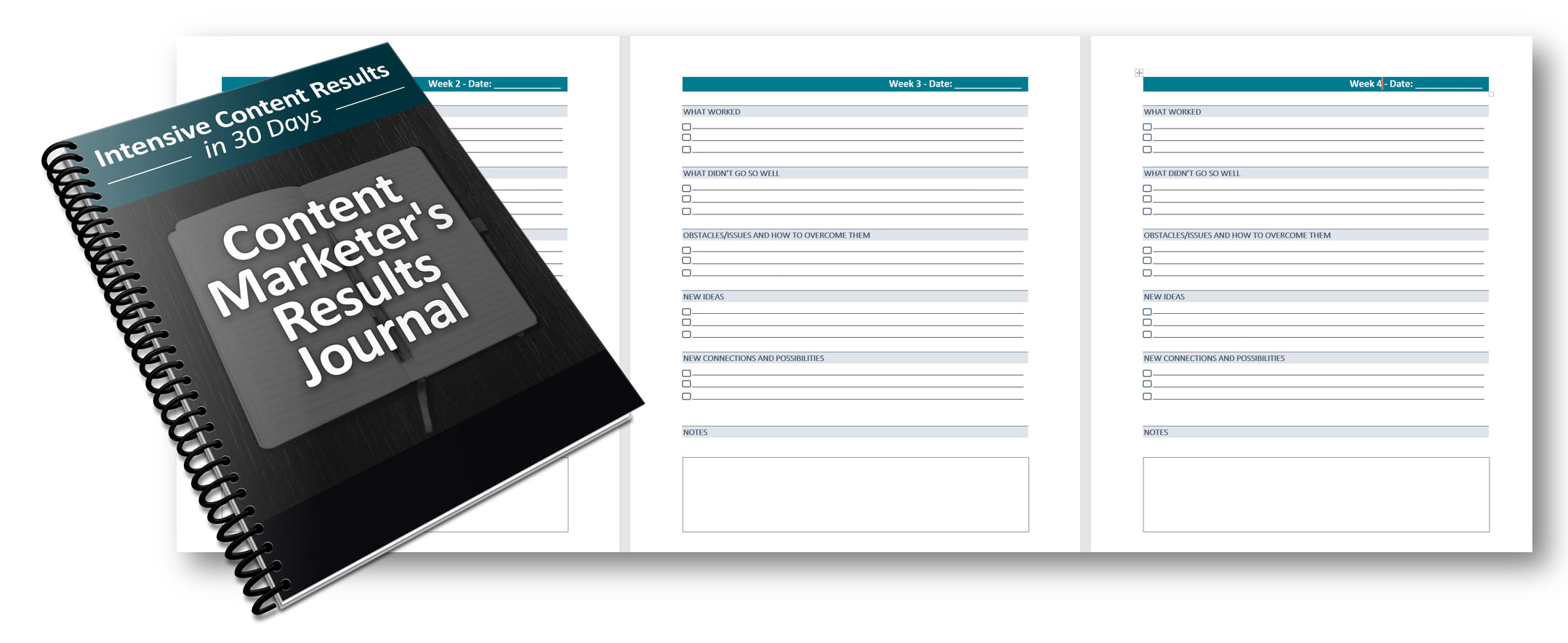 Now that you're all set, let's get to this challenge, where you'll be applying what you learned and executing that plan for content marketing results.
30-Day Intensive Content Challenge
You are definitely not alone throughout this training because you'll be able to be a part of our exclusive private Challenge and Accountability Group via Facebook Groups. Everything will be structured, so you stay on task and working toward your goals…but you'll also have the opportunity to get personalized help with questions or anytime time you need to get unstuck. Or if you just need a little butt-kicking to get yourself in gear, this is where you should go.
The daily challenge will include:
Daily check-ins with the group to state that day's plan and your results
Weekly journal check in, so you can make even bigger plans for the future
This is YOUR group and your chance to work directly with me and to learn from your fellow content publishers too.
Now, if you're looking for private label rights to this training, so you can run your own challenge, here's a quick recap of what that entails.
If You Choose Private Label Rights to This Training and Content
When you join Intensive Content Results, you'll have the option to automatically upgrade to private label rights to the training and tools. When you do that, you get private label rights to:
All the training recordings
Slide shows from each presentation
The complete transcripts
Full session notes
Monthly Strategic Content Marketing Plan Workbook
Daily Content Results Planner
Weekly Content Marketing Results Journal
Daily challenge notes
Sales page to promote the challenge
A professionally-designed logo
A variety of professionally designed product graphics
You'll also have permission to duplicate the process of delivering the challenge, providing accountability and feedback to your participants. I'm also personally available for questions on creating your own training program at the end of each of the three training sessions and in the private Facebook Group.
And This Isn't All Just Talk…Look Over My Shoulders To See Exactly How I Implement These Strategies and Tools
A lot of training is based on theory and you never know if it's been tried and true. Well, this training is based on over 16 years of experience and you'll be able to see EXACTLY how I do things.
As I mentioned, I'll be giving you in-depth training and tools to help you craft your content marketing plan that brings you traffic, new subscribers and more sales. I'll also be working with you closely for a full 30-days as you implement your plan and fine-tune your results.
But I'm not just talking the talk here. I put my money where my mouth is and I did the challenge too. I'll show you exactly how I plan and execute my own content marketing plan, so you can see my strategies in action and see that they just plain old WORK.
As you can imagine, there is a limit to the amount of people I can help and I'd love for one of those people to be you.
We've Set You Up for Success…
All You Have to Do is Follow the Instructions and Reap the Rewards
Profiting from your content isn't rocket science, but it does take a strategic approach, a well-laid out plan and consistency…and that's exactly what we've created for you. We've got all the training, tools and support you need to make it happen. You just need to follow the instructions and you'll get there.
Imagine how much time and effort we've saved you in getting your content marketing plan together…plus, you'll personally be guided by a content marketing veteran (ME!) the whole way through.
Let's look at what it COULD cost to get such in-depth training, tools and expert guidance. 
| Training, Expert Coaching and Tools | Value |
| --- | --- |
| 3 x Training Sessions from a Content Marketing Expert (ME!) | $1,200 |
| Transcripts and Recordings of All 3 Sessions | $450 |
| Planning Tools (Monthly Planner, Daily Planner and Weekly Journal) | $200 |
| 30 Day Challenge with Expert Feedback and Advice | $500 |
| Lifetime Access to Accountability Group | $300 |
| | TOTAL VALUE: $2,650 |
And if you're looking for private label rights to the content, here's what it would take to put all these materials together on your own…
| PLR Rights to the Training Materials | Time to Create | Cost to Create |
| --- | --- | --- |
| Complete and Edited Lesson Recordings | 12 hours | $1,650 |
| Enhanced Transcripts, Edited with Screenshots | 18 hours | $680 |
| Complete Lesson Notes | 5 hours | $250 |
| Training Slides | 6 hours | $280 |
| Monthly Content Results Planner | 2 hours | $120 |
| Daily Content Results Planner | 3 hours | $180 |
| Weekly Content Results Journal | 3 hours | $180 |
| Prewritten Sales Page | 3 hours | $300 |
| Professional Designed Product Graphics | 10 hours | $480 |
| Daily Challenge Notes | 6 hours | $150 |
| | TOTAL TIME TO CREATE: 68 hours | TOTAL COST TO CREATE: $4,270 |
As you can see, it would take plenty of time and investment to put this content together on your own…but you don't have to. We've done the work for you and all you need to is to get it out there.
Select from two options below. Take the training just for yourself or spend a little extra to get private label rights, so you can quickly and easily run your own training program. If you need a payment plan, just click the link below the order button.
Option 1: Complete Training & Challenge + PLR Rights
Make this the year that you unleash the power of content to get a steady stream of loyal followers, subscribers and customers who can't wait to buy your products and services.
To your content publishing success,

Alice Seba
Creating PLR Content for You Since 2006
P.S. Content is what makes the web go 'round. Whether it's to educate, entertain, provoke or inspire…it's one of the most powerful ways to bring in new subscribers and customers. But you need the strategy and plan to make it happen. Luckily, we've taken care of that for you. Click here to join us.
P.P.S. Remember, you can choose private label rights to this content, which means you can use all the training materials and tools to educate your own audience and create your own high ticket training program. Click here to get started.
P.P.S. Classes start soon and I'd hate for you to miss a single minute  or miss your chance entirely. Register while spots are still available.